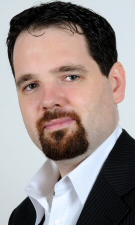 Titre: University Entrepreneurship
Conférencier: Helge Seetzen , Tandem Launch Technologies
Lieu: École Polytechnique de Montréal, Pavillon Lassonde ,
Date et heure: mardi le 24 mai 2011 de 13:00 à 16:00
Résumé: Helge Seetzen will give a presentation outlining his experience, challenges and benefits of starting a company while still studying at university. He will give an overview of his current venture, Tandem Launch Technologies, where he collaborates with universities and inventors to bring new products to market with a focus on audio, video and multimedia applications. This will be followed by questions and answers from the participants.
Note biographique: Helge Seetzen is a successful entrepreneur with deep experience in the multi-media technology space. He has repeatedly built high performance teams in both the start-up and corporate environment. He co-founded Sunnybrook Technologies and later BrightSide Technologies to commercialize display technologies developed at the University of British Columbia. BrightSide was successfully sold to Dolby Laboratories for US$28M at high return to shareholders after having grown to over 30 developers.

Known today as local dimming LED TV, BrightSide's high dynamic range (HDR) display received early acclaim such as the Best Buzz Award at the 2006 Consumer Electronics Conference and a "Top 100 Technologies in 2006" rank by Popular Science Magazine. As the Chief Technology Officer of BrightSide he also expanded the company's technology portfolio to include camera, encoding and additional display solutions through close collaboration with over a dozen international universities. At Dolby he led all cross-functional development activities for Dolby's first two consumer video products which launched in 2009. In this capacity he built research and engineering departments in Canada and the US, and was closely involved in licensing negotiations with many major consumer electronics manufacturers. Today, millions of LED TVs are sold every year and the underlying technology has become one of the core elements of the display market.

Helge's leadership in the technology transfer, innovation and entrepreneurial space has been widely recognized through awards such as Business in Vancouver's 40 under Forty award for business accomplishment, the NSERC Innovation Challenge Award for university technology transfer, and a Special Recognition Award from the Society for Information Display. He serves as the Program Chair for Display Week 2010 – the largest technical conference on displays – and Publication Chair of the Society for Information Display. He has published over 20 articles and holds 30 US patents with over 30 additional pending US applications. Helge received a B.Sc. in physics and an interdisciplinary Ph.D. (physics, electrical engineering & computer science) from the University of British Columbia.