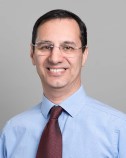 Titre: Basics of Jitter in Wireline Communications
Conférencier: Ali Sheikholeslami , Université de Toronto, Ontario, Canada
Lieu: Université Concordia, 1515 Ste-Catherine ouest, Salle EV 1.162 ,
Date et heure: lundi le 04 novembre 2019 de 14:00 à 15:30
Résumé: Jitter refers to deviation from ideal timing in clock and data transitions. In wireline communications, jitter reduces the timing margin available for clock and data recovery (CDR) circuits and poses significant challenges to signal integrity as the data rates march towards 64Gb/s/lane and beyond. In this talk, we first review the basic definitions of jitter and its properties, and the effects of jitter on CDR and other building blocks of a wireline system. We then describe the methods of characterizing, modeling, and simulating jitter. Finally, we present some recent works on jitter measurement and jitter mitigation techniques that are used to optimize the link performance.
Note biographique: Ali Sheikholeslami received the B.Sc. degree from Shiraz University, Iran, in 1990 and the M.A.Sc. and Ph.D. degrees from the University of Toronto, Canada, in 1994 and 1999, respectively, all in electrical engineering. In 1999, he joined the Department of Electrical and Computer Engineering at the University of Toronto where he is currently Professor and Associate Chair, Research. He was on research sabbatical with Fujitsu Labs in 2005-2006, and with Analog Devices in 2012-2013. His research interests are in analog and digital integrated circuits, highspeed signaling, and VLSI memory design. He has coauthored over 70 journal and conference papers, 10 patents, and a graduate-level textbook entitled "Understanding Jitter and Phase Noise". Dr. Sheikholeslami served on the Memory, Technology Directions, and Wireline Subcommittees of the ISSCC in 2001-2004, 2002-2005, and 2007-2013, respectively. He currently serves as the Education Chair for both ISSCC and SSCS, and as a member of SSCS Administration Committee. He is an Associate Editor for the Solid-State Circuits Magazine, in which he has a regular column entitled "Circuit Intuitions". He was an Associate Editor for the IEEE TCAS-I for 2010-2012, and the program chair for the 2004 IEEE ISMVL. r. Sheikholeslami has received numerous teaching awards including the 2005-2006 Early Career Teaching Award and the 2010 Faculty Teaching Award, both from the Faculty of Applied Science and Engineering at the University of Toronto. He is a registered professional engineer in Ontario, Canada.